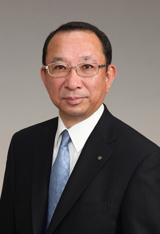 Since its foundation in 1873, what is now Katakura Industries Co., Ltd. has become widely known to Japanese society through silk and made major contributions to the country's modern industrial development.
In response to changing times and society's wide-ranging needs, we have expanded into a multifaceted business by making effective use of the tangible and intangible management resources we accumulated when we were simply "Katakura Silk." Today, we actively conduct operations underpinned by four business "pillars": textiles, pharmaceuticals, machinery and real estate businesses.
Having adopted "Proposing Comfortable Life Scenes for Lifestyle Affluence" as our corporate slogan, we focus on our customers' "lives" and wish to continue to contribute to communities and society as a whole by supporting daily lives from a variety of angles.
Now as the Katakura Group cherishing the traditions cultivated in the "spirit of enterprise," we will continue to make diligent efforts to provide products and services that meet customers' expectations in the years ahead.
President and Representative Director
Kimiya Sano